Marketing & Creative: Bringing our brand to life
Are you a gifted brand strategist and make brands come alive? Or are you more of a click-rate lover and WWW conqueror? Then you ensure that thanks to Performance Marketing and the best UX our e-commerce is as successful as our TV shows! Whether online marketing or creation: In the field of Marketing & Creative you can give our company a distinctive image and inspire customers! What are you waiting for?
0
Corporate culture
Our corporate culture is based on trust and appreciation – we are a team.
Work-life balance
With us you can have the perfect work-life balance – from home office, to flexible working hours or sabbaticals.
Further education & training
In addition to extensive orientation training, we offer several further education and training courses.
30 days of vacation
Plenty of time to relax and recharge.
Von Corporate und Set Design bis hin zu UX und E-Commerce
HSE is a leading provider in the field of live commerce in Europe. The customers decide when and where they shop at HSE – whether through one of the three TV channels, the online shop, the award-winning HSE app or the new social commerce app HSE HELLO. HSE represents the most entertaining form of shopping, inspiring 1.7 million active customers who value HSE's curated product range from the areas of fashion, jewellery, beauty, wellness, household and home and living.
Our Marketing & Creative teams take care of a variety of tasks: We handle Online Marketing, Campaign Management, Performance Marketing and UX as well as Corporate Design and Graphics or Set Design. At an omnichannel retailer, all parts are intertwined. There is one common goal for all of us: to give HSE an identity with our ideas and inspire our customers to shop every day.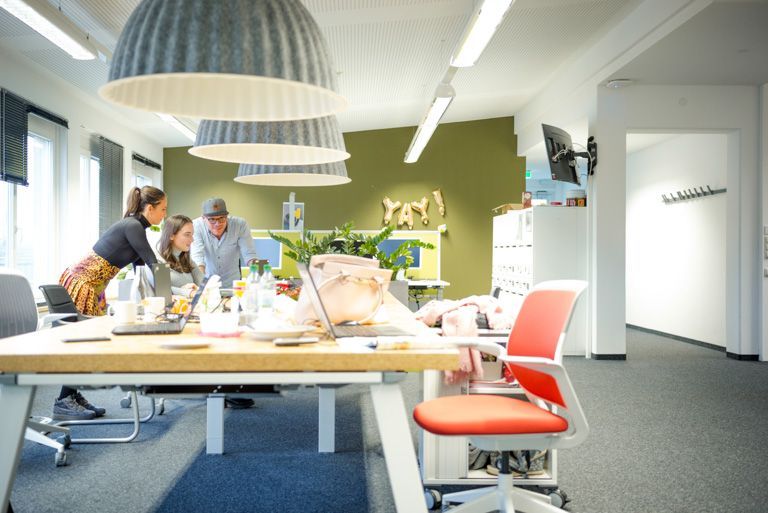 Marketing

In the Brand Marketing department we are the guardian of the HSE umbrella brand. We ensure a consistent brand appearance and our lifestyle strategy. Here you not only create the HSE brand, but you are also responsible for expanding our diverse brand portfolio. For this purpose you analyze our target groups and identify growth potential. You develop brand and launch strategies and inspire our customers with new, strong brands. You create media guidelines, brand books or even a packaging design that our customers cannot resist.

In Customer Relationship Management, you accompany our customers in all phases of the customer journey: from newsletters, mailings by post to outgoing calls – with your empathic and proactive style you win over new customers and ensure their satisfaction.

In the Online Marketing department we plan, control, and optimize our online marketing strategy. Our goal is to generate traffic for our Online Shop website, inspire customers, and further expand our rapidly growing e-commerce segment.

In our Campaign & Advertising team we are driven by one overriding question: What do we want to activate where, when, and how? As an omnichannel retailer, we cover the entire spectrum of digital marketing from social media to direct and performance marketing, but also rely on classic media such as print and out-of-home.

A seamless customer journey and maximum customer satisfaction at all touchpoints: that is what drives you. You develop ideas for new 360-degree omnichannel campaigns, orchestrate the various channels, and work out marketing plans and cooperations. You design user stories and support your colleagues from the Creation department in the creative implementation of off- and online campaigns as well as in the look and feel. In short: With your ideas you make our brand and our customers shine!
Creation & Content production

The Creation department plans, creates and, realizes content for a customer-centered 360-degree shopping experience and constantly develops it further. You work on online and offline marketing campaigns and give the company a distinctive image with your campaigns using photography, video, set design, and storytelling.

The Content & Production department plans, controls, and maintains the content for all relevant channels. Here you organize, for example, image material for our Online Shop, our social media channels or PR campaigns.

As Content Project Manager you will manage and be responsible for projects – for example a new campaign – regarding budget, resources, timing, and KPI. You have an overview of all internal processes and coordinate the interfaces and stakeholders involved.

Our video professionals are at home in the On Air Promotion department: Here you produce the latest brand trailers and program teasers. You film, edit, and dub clips for various departments throughout the company.
Throughout all departments, we are looking for people who are just like us. Up for something new and for change. Because we are also constantly reinventing ourselves.
Of course, you will have plenty of creative freedom in your job. Ample space for efficient teamwork and a special corporate culture are only one part of it. What other benefits do we offer? Find out here.
Do you want to actively shape the future of omnichannel mail order business and become part of our success story? Then welcome to the team! Take a look at the tasks that await you in the Marketing & Creative department and apply now! We are looking forward to meeting you!
Still have questions? Get in touch with Santia from our friendly recruiting team! Use the callback form. We will get in touch with you!
Cannot find a job that suits you? Then simply send us your unsolicited application!
Where we work
Ismaning is located on the outskirts of Munich between the Bavarian capital and the airport. The HSE campus is 13 kilometers from the city center of Munich and is easy to reach by all means of transportation. The suburban train (S8) takes you from Ismaning to Munich's Marienplatz in 23 minutes, or the airport terminal in just 15 minutes. There are also bus connections to the Studentenstadt (U6) subway station. Our campus offers everything you need: a cafeteria, roof terraces, various lawns, and green areas for a stroll during lunch, as well as plenty of free parking.