Senior Manager Data Intelligence (m/f/d)
Our digital teams are very diverse: We take care of things like programming, product development, product design (UX/UI), and web analysis. Everyone is pursuing a common goal: to create digital contact points between HSE and customers again and again with the latest technologies. Are you in?
HSE is a leading provider in the field of live commerce in Europe. The customers decide when and where they shop at HSE – whether through one of the three TV channels, the online shop, the award-winning HSE app or the new social commerce app HSE HELLO. HSE represents the most entertaining form of shopping, inspiring 1.7 million active customers who value HSE's curated product range from the areas of fashion, jewellery, beauty, wellness, household and home and living. In the financial year 2022, the HSE Group generated revenue of 788 million euros.
Senior Manager Data Intelligence (m/f/d)
*Gender irrelevent, as long as you are a suitable match!
What you can expect:
You have end-to-end responsibility for product management in the Data Intelligence field, including Data Platform, Technology, Business Intelligence, Advanced Analytics, and Data Science.
You lead strategic development projects with high complexity, significant risk, and pronounced volatility.
You proactively develop existing data products and prioritize the development of innovative solutions based on the business model and value for the company.
You define prototypes, set the priorities of the product backlog, and strategically reduce scope to achieve the established KPIs in short feedback cycles.
You manage internal and external teams regarding content, prioritization, and dependencies between business areas.
You lead cross-functional interest groups to make the best possible decisions for the business that go beyond compromise.
You manage stakeholder relationships in dependencies with other products, services, and processes.
You ensure that solutions align with the existing and future architecture.
You translate business processes into technical language and explain complex technical solutions in a understandable way for business stakeholders.
You coach and educate the product team, define processes, and optimize them to accelerate continuous hypothesis validation.
You develop a vision and an implementation plan for new data products in coordination with other product teams and the Head of Data Intelligence.
You coordinate service providers, including the proposal phase and execution.
Requirements
You have several years of experience in a comparable position in a cross-functional, agile company, ideally in the data field.
You bring extensive experience in managing cross-functional and KPI-driven product development teams, with the ability to prioritize the backlog based on the highest business value instead of just capturing stakeholder requirements.
You have a proven track record of successful collaboration with business stakeholders and are regarded as an equal partner by key stakeholders, including at the director level.
You have demonstrably successful experience in leading and motivating teams with a pragmatic approach and a can-do mentality. You are perceived and accepted as a leading figure by the team and the company.
You are open to unconventional thinking, rapid changes, and innovative topics.
You are fluent in both German and English, and any additional languages would be a plus.,
These are your benefits
We want your ideas: We offer you an exciting platform to experience TV and digital and to help shape the future of home shopping!
We offer fair working conditions and exciting development opportunities.
Work-life balance
With us you can have the perfect work-life balance – from home office, to flexible working hours or sabbaticals.
Benefits & compensation
We offer much more than just an attractive salary – such as allowances or bonuses.
Corporate culture
Our corporate culture is based on trust and appreciation – we are a team.
Further education & training
In addition to extensive orientation training, we offer several further education and training courses.
Dein Ansprechpartner
You can't understand where someone's going unless you understand where they've been.
So let's talk about you.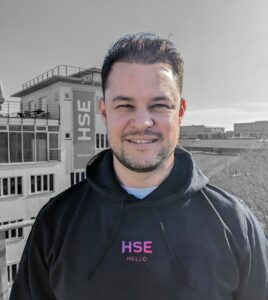 Daniel Möbus, Dein Recruiter
is looking forward to your call
These jobs could also fit
Job title

Location

Entry level
Cannot find a job that suits you? Then simply send us your unsolicited application!
Everything you need to know about applying with us
Where we work
Ismaning is located on the outskirts of Munich between the Bavarian capital and the airport. The HSE campus is 13 kilometers from the city center of Munich and is easy to reach by all means of transportation. The suburban train (S8) takes you from Ismaning to Munich's Marienplatz in 23 minutes, or the airport terminal in just 15 minutes. There are also bus connections to the Studentenstadt (U6) subway station. Our campus offers everything you need: a cafeteria, roof terraces, various lawns, and green areas for a stroll during lunch, as well as plenty of free parking.
Home Shopping Europe GmbH
https://www.hse24.de/
http://www.hse24.com/media/layout/css_datei/css_images/hse24_logo~1.jpg?cid=3
2023-10-05
FULL_TIME
2023-10-05
Münchner Str. 101h
Ismaning
Bayern
85737
DE
DE
}