Internship, student job or thesis: exciting tasks, opportunities included
Are you a student and want to add some excitement to your studies with an internship or as a working student? Are you looking for a company where you can write your thesis while at the same time getting some exciting insights into the day-to-day business of a company? No matter what, as a student you can look forward to exciting tasks – opportunities included!
Your benefits
Corporate culture
Our corporate culture is based on trust and appreciation – we are a team.
Permanent employment possible
If you do well there is a good chance of permanent employment!
Shopping card & corporate benefits
Attractive conditions, special offers, and a prepaid credit card with 50 euros to top it off.
Canteen & allowance
Delicious and affordable food is available in our canteen.
Whether student job or internship: your energy and initiative are wanted!
As part of your internship or stint as a working student, you will experience in real time how the omnichannel mail order business works throughout all channels. We are live on air for 16 hours a day, online 24/7, on 365 days a year. This means you can learn about a wide variety of tasks: Whether in TV Production, Marketing, or Supply Chain Management – your ideas, energy, and initiative are wanted!
Business administration or law, information systems or education, media studies or mathematics, design or German – your academic field is almost secondary. What matters is that you are the right fit for us! Are you passionate about media and are you a real team player who can identify with our values and wants to be part of a dynamic company? Perfect, then nothing stands in the way of an exciting future!
Of course, you will also get to enjoy the many employee benefits. For example, our flexible working hours will help you reconcile your studies and job in the best possible way.
By the way: after your internship, stint as a working student, or your thesis, there may be long-term job opportunities available at our Ismaning location.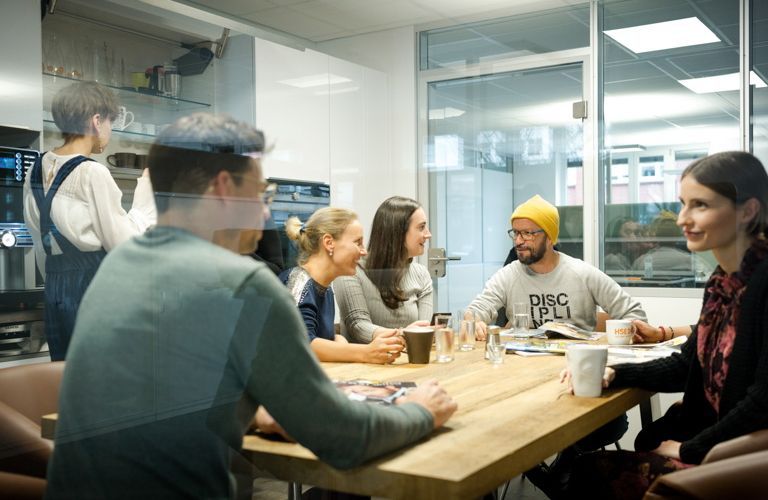 As an intern or working student, you will be fully involved from day one!

Whether as an intern or working student: in our team you will value the open, appreciative, and friendly communication with colleagues from the first day, regardless of hierarchical level. You will be accepted into the teams as an equal and can actively contribute to changes and improvements, true to the values that we live by every day.

We want you to take the world of home shopping to the next level. This is not the place where people are hired as support staff and to make coffee. Your internship or student job is practice-oriented. You will get to know the workflows and processes at an omnichannel retailer in front of and behind the camera, work on a variety of projects, deepen your expertise, and put it directly into practice.

From Camera Assistant to Model Planning through to Digitization and App Development as well as Marketing, Controlling, or HR Management: you can contribute your expertise and get a taste of the real world. We offer you the full range of opportunities of an innovation driver in home shopping!
Still have questions?
We have compiled all important answers about duration, remuneration, and opportunities here:
Which fields of study are preferred?

What you study is almost secondary. Depending on the field of activity, however, a study close to the field is helpful. For example Business Administration in Marketing, Computer Science as a Software Developer, or a "creative" study in the field of Photo, Image, or Make-Up. But what is most important to us is that you are passionate about the topics and that the chemistry is right. Just have a look at our job offers and see if there is something suitable for you and what requirements the job entails!
What are the requirements for internships, working student jobs, and theses?

You have to be enrolled at a university. Otherwise you are also in the right place if you are media-savvy, want a lively environment, and want to develop yourself further. You can find specific requirements in the respective job posting.
Which departments of the company offer an internship or working student activity or theses?

We offer you a variety of interesting jobs: TV Production & Broadcasting, IT & Infrastructure, Marketing, E-Commerce, Creative, Purchasing, Sales Planning / Sales Controlling, Business Analytics, Process and Project Management, Corporate Functions (for example HR, Corporate Communications, Legal and others), Customer Experience, Supply Chain & Logistics.. To find out more about your specific tasks and possibilities, take a look at our job offers!
How long does an internship last?

Ideally, an internship with us lasts six months, with a minimum of three months.
What do I earn as a working student or intern?

As an intern, you will receive a monthly pay of 1044 euros for a compulsory internship. A voluntary internship pays 1.818,30 euros per month. Working students are paid 13,50 euros per hour, thesis are remunerated with 1,800 euros.

You also get a lot of other employee benefits, such as discounted meals in our canteen, employee discounts, and much more.
How many hours am I allowed to work as a working student?

By law you are allowed to work up to 20 hours a week as a working student, and up to 40 hours per week during the semester break. You can organize your working hours very flexibly after consultation and depending on the assignments.
How do I find a topic for my thesis?

If you would like to write your thesis with us, we look forward to your unsolicited application with a suggested topic!
Will I be supervised during my thesis?

Yes. You can write your thesis either at our company or at home. Of course we are always at your disposal to support you in the best possible way.
What tasks await me as a working student or intern?

You will work on specific projects and/or support your team in day-to-day business. You can find details on what you will be doing in the respective job offer. We also talk about your tasks in an interview.
What prospects do I have after my studies?

An internship, a traineeship, a job as a working student, or a thesis can be a great steppingstone to eventually get hired by us. If you have impressed us and we are a good fit for each other, you will find exciting opportunities with us.
Still have questions? Our friendly recruiting team is looking forward to hearing from you!
All internships and student jobs
Cannot find a job that suits you? Then simply send us your unsolicited application!
Where we work
Ismaning is located on the outskirts of Munich between the Bavarian capital and the airport. The HSE campus is 13 kilometers from the city center of Munich and is easy to reach by all means of transportation. The suburban train (S8) takes you from Ismaning to Munich's Marienplatz in 23 minutes, or the airport terminal in just 15 minutes. There are also bus connections to the Studentenstadt (U6) subway station. Our campus offers everything you need: a cafeteria, roof terraces, various lawns, and green areas for a stroll during lunch, as well as plenty of free parking.