Trainee program or traineeship: Your introduction to the media world
Are you a graduate and want to apply and expand your know-how in the real world as a trainee? How about a traineeship? This will give you some exciting insights into Corporate Communications, and you will be supporting our Editorial team. And of course there is a good chance that we will offer you a permanent position.
Your benefits
Corporate culture
Our corporate culture is based on trust and appreciation – we are a team.
Work-life balance
With us you can have the perfect work-life balance – from home office, to flexible working hours or sabbaticals.
Further education & training
In addition to extensive orientation training, we offer several further education and training courses.
Permanent employment possible
If you do well there is a good chance of permanent employment!
12 or 18 months, trainee program, or traineeship?
For career starters who have just graduated, we offer two ways of getting started in the media world: the 12-month trainee program or an 18-month traineeship.
No matter what you choose, you will appreciate the open, respectful, and friendly communication within the teams – regardless of the hierarchical level. You will be accepted into the teams as an equal and can actively contribute to changes and improvements, true to the values that we live by every day. You are invited to actively co-shape the world of omnichannel retail.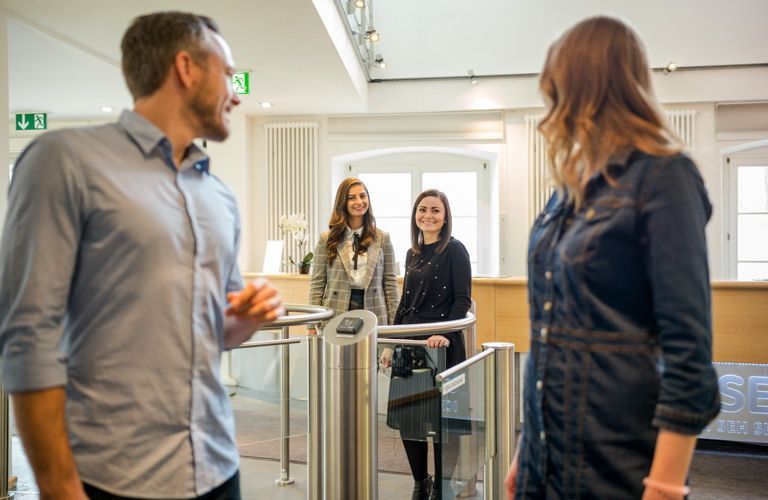 Trainee program: Ready for the professional world in 12 months

Did you already graduate and want to dive into the exciting world of mail order and e-commerce? Do you want to experience up close how home shopping works? Do you want to find out how we track down all the product innovations worldwide and stage them perfectly and scheduled to the second in the sales shows which, by the way, are watched by millions of people? We offer you the perfect entry level position as a trainee: In Purchasing, we will get you ready for the real world in just 12 months through outstanding and intensive training. You will get to know our different shopping teams, such as in Fashion, Home & Living, Jewelery, or Household and get insights into the world of online and TV planning. And there is a good chance we will hire you at the end of your training!
Traineeship: Exciting insights into our Corporate Communications and Editorial teams

Traineeships last 18 months. You can complete this program with us in two different departments. In the Corporate Communications department, you support the Corporate Communications, Internal Communications, and Product PR teams. In the Creation department, you are part of our Editorial team and get exciting insights into the world of omnichannel mail order. Here you also have a good chance of being hired on after successfully completing the program.
No matter what you choose, we are looking forward to welcoming you!
Still have questions about the trainee program or traineeship? Our friendly recruiting team is looking forward to hearing from you! You can use our callback form.
Current job openings for you
Cannot find a job that suits you? Then simply send us your unsolicited application!
Where we work
Ismaning is located on the outskirts of Munich between the Bavarian capital and the airport. The HSE campus is 13 kilometers from the city center of Munich and is easy to reach by all means of transportation. The suburban train (S8) takes you from Ismaning to Munich's Marienplatz in 23 minutes, or the airport terminal in just 15 minutes. There are also bus connections to the Studentenstadt (U6) subway station. Our campus offers everything you need: a cafeteria, roof terraces, various lawns, and green areas for a stroll during lunch, as well as plenty of free parking.