Apprenticeship or dual study:
Your choice!
You finally graduated, your head is full of ideas, and you wonder what's next? Are you the computer expert in the family or have you even programmed small applications before? Do you tend to be a numbers person? Or are you all about online retail? Not sure whether an apprenticeship or a dual study course is right for you? Whether Media Designer or E-Commerce, IT Development or Administration: with us you not only have a wide selection of tasks, great colleagues, and an attractive salary – but also the best opportunities to get hired on afterwards!
These are your benefits
Permanent employment possible
If you do well there is a good chance of permanent employment!
Apprentice sponsor
A more advanced apprentice is always available to answer your questions.
30 days of vacation
Plenty of time to relax and recharge.
Canteen & allowance
Delicious and affordable food is available in our canteen.
Exciting opportunities in e-commerce and omnichannel trade
HSE is the pioneer of German home shopping. We are vibrant, full of ideas, and we offer products that always deliver a bit more than expected. 1,200 employees – more than 900 of which on our campus in Ismaning on the doorstep to Munich – contribute to the company's success each day and create unique shopping experiences and inspiration for our customers.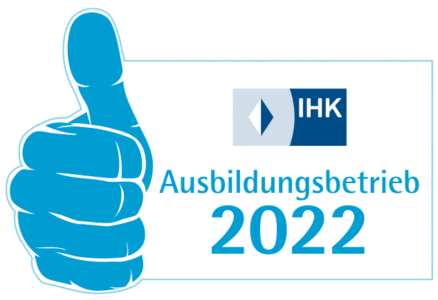 Home shopping used to be synonymous with teleshopping, i.e., shopping by TV and phone. Who knows, maybe even your mother or grandmother have bought products from us before. Today, we are represented throughout all channels. As a so-called omnichannel retailer, we offer 17,000 products to our customers via the online shop, app and social media.
While we reach 45 million customers via their TV sets in German-speaking countries alone, we are seeing the greatest growth in e-commerce. This offers exciting opportunities – for example, through an apprenticeship as an e-commerce associate! You can also lay an excellent foundation for your career by training as a media designer for image and sound. And as an IT specialist, you can either help shape our growing IT landscape or our e-commerce applications.
Whether in an apprenticeship or dual study program – with us you can experience in real time how omnichannel mail order works throughout all channels. We are live on air for 16 hours a day and online 24/7 – on 365 days a year. You will have the opportunity to get to know a diverse range of tasks and a dynamic environment.
Apprenticeship or dual study?

Apprenticeship or dual studies, that is the question. Apprenticing is very practice-oriented: You are right in the middle of the action, work in different departments and business units, and get an excellent foundation for your start in the working world. The apprenticeship allowance gives you financial independence. We offer apprenticeships for four types of jobs. Surely one of them suits you!

If you decide on dual studies, you can look forward to the semi-virtual study course in Business Administration with a focus on Trade Management and E-Commerce. This is offered in cooperation with the University of Applied Management in Ismaning. In addition to the apprenticeship allowance, we also cover the costs of your studies.
Easy to get started and always here to help

You are not alone during your apprenticeship: Your apprenticeship supervisors and your instructor are always there to support you. To make it as easy as possible for you to get started, we also have more experienced apprentices who are always available with help and advice. And in joint projects, apprentices and dual students work together on interdisciplinary topics, such as open days.

By the way: We train as needed, which means we only train as many employees as we can hire later on. That means if you do well, there is a good chance that you will be hired and have an opportunity to shape the future of omnichannel trade.
Student internship: get a feel for it first

Are you not yet ready for an apprenticeship and would like to find out more first? We also offer voluntary internships or an intern position specified by the school. You can get a feel for many business departments, for example the Studio division, Purchasing, or IT.
Whether apprenticeship or dual studies – we can offer you the perfect start! Make the right decision – and apply now!
Do you have any questions about the apprenticeship, dual studies, or student internships? Katharina from our friendly recruiting team is looking forward to hearing from you!
Current job openings for you
Cannot find a job that suits you? Then simply send us your unsolicited application!
Where we work
Ismaning is located on the outskirts of Munich between the Bavarian capital and the airport. The HSE campus is 13 kilometers from the city center of Munich and is easy to reach by all means of transportation. The suburban train (S8) takes you from Ismaning to Munich's Marienplatz in 23 minutes, or the airport terminal in just 15 minutes. There are also bus connections to the Studentenstadt (U6) subway station. Our campus offers everything you need: a cafeteria, roof terraces, various lawns, and green areas for a stroll during lunch, as well as plenty of free parking.